null
Activity: focus on the physico-chemical analysis laboratory
09 Dec 2022
The agricultural chain does not stop at the harvest. The valorization of seeds and oil cakes is essential to provide outlets for human and animal food for oil and protein crops.
Downstream of production, Terres Inovia's physico-chemical analysis laboratory, based in Ardon (Loiret), works to test, evaluate and control the technological and nutritional quality of our ten oilseed crops, but also of camelina and mustard.
Carefully conducted analyses
Each year, the team screens more than 13,000 samples of :
-Seeds to determine impurities, water content, thousand-seed weight, oil content, protein content and anti-nutritional factors such as glucosinolates.
-Oilcake to analyze fat, crude cellulose, proteins (and their solubility), crude ash, but also the content of glucosinolates and the enzymatic digestibility of soluble proteins.
-Extracted oils: to measure acidity and fatty acid composition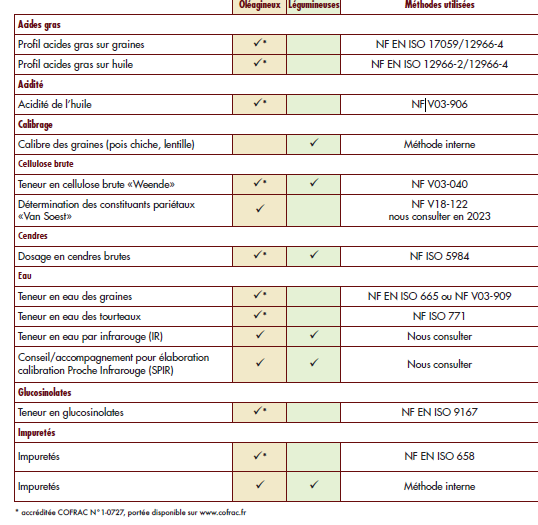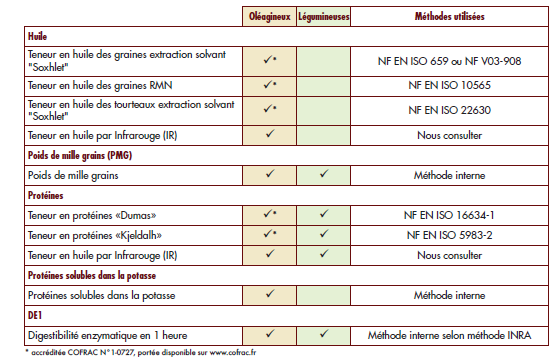 ​​​​​​​
​​​​​​​About twenty parameters, through several methods, are analyzed by the laboratory of Ardon, which represents more than 40 000 determinations per year
A recognized expertise
The analysis laboratory is accredited NF EN ISO 17025 by the COFRAC (scope available on www.cofrac.fr ; N°1-0727), which gives a real recognition to the sector, but also to private actors.
It can thus provide its skills and perform external services for companies. This expertise also allows the laboratory to work directly for the Interprofession, since it coordinates and carries out the analyses for the observatories on the quality of seeds and cakes in connection with Terres Univia.

Finally, because analysis technologies are constantly evolving, the laboratory seeks to go further, by participating in internal R&D activities and in collaborative projects to develop new analysis methods, for example those related to near infrared spectrometry or nuclear magnetic resonance.
This expertise is also used in the framework of standardization in which the Terres Inovia laboratory actively contributes to ensure reliable, recognized and available analysis methods for our seeds and co-products.
To go further :
Consult the information leaflet on the activities and services of the physicochemical analysis laboratory (attached)
- Document à télécharger :