null
GHG reduction: Terres Inovia leads the first ClieNFarms field visit in France
11 May 2023
On 13 April, the Institute organised a visit to the demonstration farm, consisting of the Syppre Champagne platform and Terrasolis Low Carbon Farm, as part of the European ClieNFarms project, which aims to reduce greenhouse gas (GHG) emissions on farms.
A European carbon neutrality project for farms
The objective of ClieNFarms is to obtain a reduction in GHGs of at least 50% by 2050 so that the agricultural sector can help achieve carbon neutrality in the territories.
Coordinated by INRAE, this project brings together 33 partners, including Acta, which represents Terres Inovia, the Institut de l'élevage and Arvalis. ClieNFarms also includes private companies such as Nestlé, Danone and EDF. The project aims to support farmers in reducing GHG emissions and improving carbon storage in the soil. Innovative systemic solutions" are to be tested throughout the project.
The project adopts a multi-stakeholder approach to integrate and improve existing solutions, involving farmers, agribusinesses, policy makers, the financial world and citizens. ClieNFarms aims to demonstrate, evaluate and improve technical, organisational and financial solutions around agricultural production to help achieve carbon neutrality by 2050, focusing on capacity building.

Syppre Champagne and Terrasolis Farm: the first demonstration farm
The Syppre Champagne platform and Terrasolis Farm Bas Carbone form the demonstration farm for this project. This visit allowed us to discuss the main levers that have been or will be put in place to reduce greenhouse gas emissions from farms.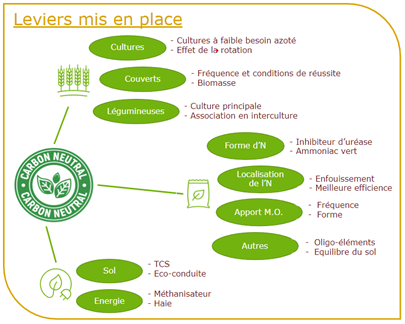 ​​​​​​​
On the Syppre Champagne platform, several levers have already been installed to assess their impact on the site's carbon footprint. The main levers concern fertilisation, the main source of GHG emissions in field crops, the use of fossil fuels and crop diversification.
During the day, "questions and concerns were identified," notes Anne Schneider, sustainability researcher at Terres Inovia. For example, although many farmers have heard of the low-carbon label, they feel that it is a complicated concept to understand, with numerous indicators and differences in results depending on the method used.
Furthermore, in this nascent market, the remuneration of producers' efforts is not very clear. "There is an urgent need to remunerate efforts, i.e. to better value practices that are already virtuous. In spite of these questions, the producers present during the day were all unanimous on one point: it is necessary to get together to understand, test and move forward.
The project's momentum has now been launched and new visits are planned to the eight pilot farms on various themes. The next visit is on Tuesday 23 May and will focus on the insertion of winter peas in the crop rotation and the carbon issues of this crop.

For more information on the content of the visit on 13 April, please see the attachments
- Documents à télécharger :