null
Control of the green aphid on dry lentils in Organic Agriculture - 120 days derogation FLIPPER ®
06 May 2022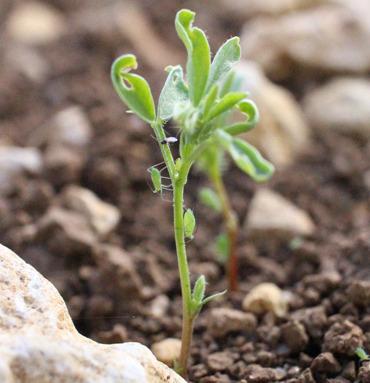 The green aphid (Acrythosiphon pisum) can attack lentils in the early stages of crop development and impact yield potential on affected plots. They can directly impact the lentil, by consuming the sap, which delays the growth of the crop and slows down the flowering. The impact of aphids can also be indirect, through the transmission of viruses, viruses that have been detected on lentil in 2020 and 2021 within the framework of the diagnostics carried out by Terres Inovia in 2020 and 2021.
The mild weather conditions in spring favor the presence of this pest. It is necessary to go and observe the plots now.

The mild weather conditions in spring favor the presence of this pest. In order to avoid that the producers of dry lentils in Organic Agriculture do not find themselves in a dead end, a request for a 120 days derogation (art 53 REG 1107/2009) submitted by ANILS and Terres Univia to the Ministry of Agriculture has received a positive opinion. ​​​​​​​
FLIPPER® is composed of potassium salts of C7 to C20 fatty acids (479.8 g/l).
FLIPPER® is authorized at the maximum use rate of 10 l/ha from BBCH11 to BBCH89 stages in 5 applications maximum.
Re-entry period: 24 hours Pre-harvest period: 3 days
SPe8: may be hazardous to bees. Application may be made during flowering and foraging areas when bees are not present and within 2 hours before sunset or 3 hours after sunset.
SPe 3: To protect aquatic organisms, maintain a 20-metre untreated area with a 20-metre wide permanent vegetative cover around water bodies.
FLIPPER® acts by contact as a desiccant and suffocant. It can also be used in conventional production, but it does not have the shock action of a pyrethroid and its efficiency will therefore be lower. FLIPPER® should therefore be applied at the very beginning of the infestation, as soon as the first aphids appear.
​​

FLIPPER® dose to be applied: 5 l/ha

The effectiveness of FLIPPER® depends on the quality of the application. Adapt the volume of spray mixture to the vegetation in order to cover all of it : aim for 400 to 500 l/ha of spray mixture.

For less developed crops (before the flower bud stage), 5 l/ha of Flipper® in a minimum spray volume of 250 l/ha is also possible.
The persistence of action is ensured by the repetition of the applications. Observe and renew the application after 7 days maximum if necessary. A minimum of two applications is usually required.
For more information on lentil pests during flowering, do not hesitate to consult this article on the Terres Inovia website : Pests of lentil at flowering
Additional information
The derogations requested for the use of the specialties NIRVANA S and MAVRIK JET on lentils are still pending.

Franck Duroueix - f.duroueix@terresinovia.fr - Responsable évaluation intrants
Laurent Ruck - l.ruck@terresinovia.fr​​​​​​​ - Protection intégrée des cultures
Zoé Le Bihan - z.lebihan@terresinovia.fr - Référente lentille